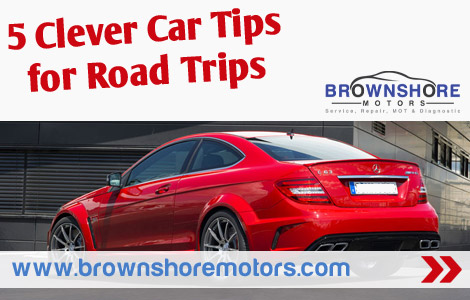 This blog post rounds up the top 5 car tips for road trips.
Are you going away this summer? With all of this good weather, a road trip has never seemed like a better idea. Whether it's with the family, the lads or even the girls, we've put together 10 smart car tips for road trips this summer.
Fluids – Your car won't be going anywhere if you're running on empty!
Remember to check out your cars:
Engine oil
Transmission fluid
Gasoline
Antifreeze/coolant
Radiator coolant
Brake fluid
Windshield washer fluid
Power steering fluid
Battery – Jumpstarting is no fun…
Batteries although charge more the more you drive can come to end of their life span. And jumpstarting whilst you're on your road trip is not a good idea and not always fail proof either.
Make sure your batter is healthy and full of life.
Satellite Navigation – use less petrol and know where you're going
Technically you're not meant to know where you're going on a road trio (it's all part of the fun.) However, it's good to have some idea of where you're going so you don't drive around in circles using up precious petrol.  A sat nav or a road map for the authentic feel is a useful way of being fuel efficient.
Emergency kit   – an essential
We're not saying you'll need but it's on a just in case basis; your kit should include the following:
Jumper cables
 Knife
 Flashlight
Multipurpose tool
Tire sealant
Duct tape.
Join the RAC – they've got your back
If you haven't already, join the RAC or an equivalent because break downs are bad enough when you only around the corner from home, never mind when you're a million miles away. Many worry about road trips knackering their cars out but in actual fact, it's the day –to- day driving that's not as kind to your car.
That said, it's always good to have some back up.
Psst : remember to get your car checked over by a professional if you're planning on a long trip and are not sure of your vehicle's health.
Social Share